Holistic Services Group is Commonwealth Bank's provider of choice for Mindfulness workshops (as of 2018).
Let our experts run your corporate mindfulness training program at your premises in Sydney, Melbourne, Brisbane, Perth, Adelaide and other Australian cities, or via online webinars throughout the Asia-Pacific region, from China and Japan to New Zealand.
We offer two types of mindfulness / meditation trainings:
Mindfulness / Meditation Workshops
Choose from three different workshops / webinars that cover both the theory and the practice.
More details below.
Meditation Classes
A series of one or more practical meditation sessions. Almost the entire session is spent meditating, with a short introduction and time for Q&A at the end.
More details here…
Mindfulness / Meditation Workshop
Mindfulness / meditation is quite a large topic, and therefore, we offer three mindfulness meditation workshops. They all focus on slightly different aspects, while still covering the essential basics of mindfulness. Therefore, they are all suitable as a standalone introductory workshop / webinar, and also make an excellent series of workshops or Lunch'n'Learn sessions. You can also combine two or more of them into one longer workshop.
You can choose the length of the workshop:
1-hour.
2-hour.
(Can be split across two 1-hour Lunch'n'Learn sessions).
4-hour.
If you want a workshop that is 2 hours or longer, then you can choose to either:
Have more time for practical exercises (which is important because mindfulness is a very practical thing!)
Or combine two or three workshops into one session.
Contact us to receive more details about each of our three mindfulness / meditation workshops.
Mindfulness
Peter was great! He approached the entire thing differently to any other mental health seminar we have had here at PSA. He explained the science about it all, which was an eye opener for most of our participants. We would enjoy Peter again if we were to have another seminar.
Meditation Training Packages
Follow the Introduction to Mindfulness / Meditation workshop with a few weekly Meditation Classes to help your staff get into the habit of meditating – it's the best may to maximise the return on investment from your training dollars.
In recent years there's been a big increase in the use of mindfulness training in the workplace. This has been driven by the increasing scientific research into mindfulness meditation that has confirmed the positive effects produced by mindfulness training.
What is Mindfulness Training?
A common definition of mindfulness meditation is "moment to moment non-judgmental awareness". It's a powerful relaxation technique.
During mindfulness training participants are taught how to bring awareness to the present moment by focusing on the breath, listening attentively and observing thoughts and emotions. When applying these mindfulness techniques throughout the day, participants experience a feeling of well-being and calm.
Is mindfulness training different to meditation training?
There are many different forms of meditation and mindfulness is just one of them. Other types of meditation techniques include: mantra, transcendental, loving meta, etc.
Mantra meditation, for example, seeks to remove all thought from your mind by replacing it with a constantly repeated mantra. Loving meta is designed to focus your thought on the feeling of love and generating more love. With these types of meditation it's difficult to do anything else while you're meditating. With mindfulness meditation the idea is not to remove or replace all thought, but rather to focus your awareness on that which is happening in the present moment. Therefore, mindfulness meditation is ideally suited to the workplace.
A practical example of this is: if someone said something that annoyed you, don't spend the next 2 hours churning it over in your mind. Instead, accept that it annoyed you and then return your focus to what's happening in this moment.
How can your Organisation Benefit from Mindfulness Programs?
Practicing mindfulness at work has proven to have benefits for both employees and employers.
Corporate mindfulness programs produce the following benefits:
Less stress-related illnesses reduce the costs of employee absenteeism
Employees are able to concentrate and focus better on their tasks and therefore workplace productivity increases
Relationships between colleagues improve as well as relationships between employees and clients
Mindfulness reduces absenteeism
Implementing a corporate mindfulness program will reduce the number of stress-related illness and therefore reduce costs due to absenteeism.
In 2014, the US Agency for Healthcare Research and Quality published research on the efficacy of meditation. They concluded that:
"Meditation programs, in particular mindfulness programs, reduce multiple negative dimensions of psychological stress"
and
"Mindfulness meditation programs improved multiple dimensions of negative affect, including anxiety, depression, and perceived stress/general distress … the effects were significant for anxiety and marginally significant for depression at the end of treatment, and these effects continued to be significant at 3-6 months for both anxiety and depression"
During the mindfulness meditation workshop the participant learns how to simply observe stressful thoughts, calmly accept them and then let them go and return to focusing on what is happening in the moment instead of continuing to focus on the stressful thoughts. One of the underlying principles of mindfulness training is that stressful thoughts and feelings lose their power if we stop feeding them attention.
Mindfulness training produces focused employees
Mindfulness training teaches employees how to achieve mental clarity which helps to improve concentration and focus. When an employee's mind is occupied with repetitive, nagging thoughts, it's very difficult to focus on the work they're supposed to be doing. Mindfulness techniques help employees clear these repetitive thoughts and focus on the work.
Mental clarity also increases the participant's creative abilities. An open mind is much better at problem solving than a closed and cluttered mind.
Mindfulness training improves relationships
Workplace mindfulness training programs can help improve relationships between employees and also with your customers. Imagine what it would be like to deal with people who are more calm and peaceful after their mindfulness meditation classes! People who practise mindfulness in daily life not only develop more self-acceptance but also more empathy and compassion for others.
The benefits of mindfulness training will also flow into employees' home lives, which means they'll have fewer personal problems to bring into the workplace.
Meditation
Thank you
Thank you to Honey for providing such a great service, it was extremely beneficial for my team.
A special thank you to Mia for your amazing meditation session, the feedback from everyone who attended was "we felt so relaxed and had an amazing nights sleep" will definitely do it again
Flexible delivery options
We can tailor a training program to suit your requirements. We can deliver:
A one-off practical workshop
A series of relaxation and mindfulness classes that will give staff the knowledge and tools for long-term benefits.
Mindfulness training Online or in Sydney, Melbourne and other cities
We have meditation experts available in Sydney, Melbourne, Brisbane, Perth and in most other cities throughout Australia. If you're not in a capital city then we can still deliver a corporate mindfulness training program using one of our facilitators based in the nearest regional centre. We can also deliver our workshops by live video webinar to New Zealand, Singapore , Philippines, India, China, Hong Kong, Japan, Malaysia and to other countries in the Asia Pacific region.
Contact Us
Please contact us on 1300 889 073 or email us to discuss your corporate training requirements.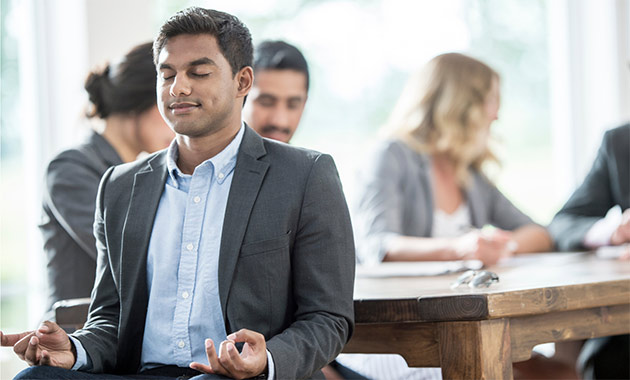 Other Workplace Wellness Services
HSG provides a comprehensive range of corporate wellness services. Here are a few of them: